STORE UPDATES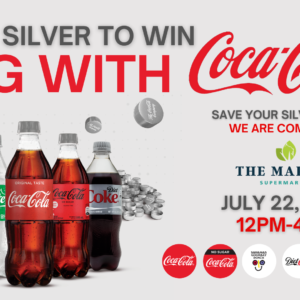 Starting now, you will be able to collect the caps for a chance to win various prizes, including domino sets, beach chairs, cooler bags, and Coca-Cola Bahamas glasses. Those who trade in their silver caps at The Market Supermarket on July 22nd, will also be eligible to enter to win a Samsung S20 smartphone.

Drink SILVER & WIN BIG with COCA-COLA in THREE easy steps:
1. Enjoy any Coca-Cola beverage with a SILVER bottle cap ✅
2. Keep your silver bottle cap ✅✅
3. Trade your saved caps for BIG prizes! ✅✅✅ Bring your SILVER BOTTLE CAPS to Rock Sound Properties from 12pm – 4pm on July 22nd to trade for BIG prizes!
Prizes include a brand new SAMSUNG S20 cellphone and limited edition COCA-COLA gear!
HOW IT WORKS: Coca-Cola, Coca-Cola No Sugar, Diet Coke, Minute Maid Fruit Coolers, Sprite and Bahamas Goombay Punch will all be sporting new limited edition silver bottle caps, this summer! And, you can collect them for the chance to win prizes! Drink SILVER, WIN BIG & with COCA-COLA, all summer long!
JOB VACANCIES
For over the past 40 years our goal has been to operate a grocery store that focuses on providing quality food items while also offering a shopping experience that exceeds our customers' expectations.
We are looking for hardworking, talented individuals to join our team. Ideally, persons must must reside or have the personal means to relocate to the island of Eleuthera (housing and/or relocation allowance is not provided).
Current vacancies include:
Insurance Salesperson Trainee and Insurance Salesperson
If you are interested in applying for one of these positions, please forward your resume to hr@rsp1976.com.