STORE UPDATES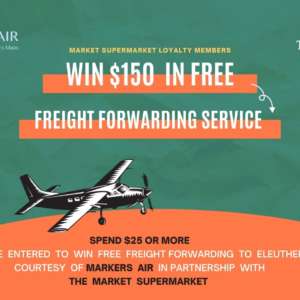 Freight Forwarding Services to Rock Sound Now Available 4 DAYS per week!
Contact Makers Air:
Email: Freight@makersair.com
Call: 954-771-0330
LOYALTY CUSTOMER: SPEND $25 OR MOREAND BE ENTERED TO WIN A $150 FREIGHT FORWARDING VOUCHER TO ELEUTHERA COURTESY OF MARKERS AIR IN PARTNERSHIP WITH THE MARKET SUPERMARKET. DRAWING MARCH 12, 2021
JOB VACANCIES
For over the past 40 years our goal has been to operate a grocery store that focuses on providing quality food items while also offering a shopping experience that exceeds our customers' expectations.
We are looking for hardworking, talented individuals to join our team. Ideally, persons must must reside or have the personal means to relocate to the island of Eleuthera (housing and/or relocation allowance is not provided).
Current vacancies include:
Insurance Salesperson Trainee and Insurance Salesperson
If you are interested in applying for one of these positions, please forward your resume to hr@rsp1976.com.