STORE UPDATES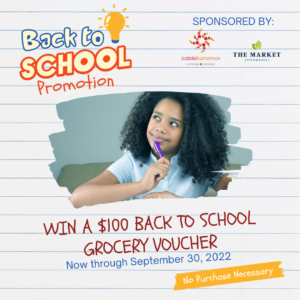 Students (5-17yrs) send us your back-to-school photo (in full uniform) and let us know why you enjoy using technology in the classroom for a chance to win a $100 back-to-school grocery voucher compliments of Cable Bahamas and The Market Supermarket (Eleuthera).
Email your entry to marketing@rsp1976.com.
Submission deadline – Sept 15, 2022.
* WINNERS WILL BE FEATURED ON THE MARKET SUPERMARKET'S FACEBOOK PAGE THROUGHOUT THE MONTH OF SEPTEMBER
JOB VACANCIES
For over the past 40 years our goal has been to operate a grocery store that focuses on providing quality food items while also offering a shopping experience that exceeds our customers' expectations.
We are looking for hardworking, talented individuals to join our team. Ideally, persons must must reside or have the personal means to relocate to the island of Eleuthera (housing and/or relocation allowance is not provided).
Current vacancies include:
If you are interested in applying for one of these positions, please forward your resume to hr@rsp1976.com.