STORE UPDATES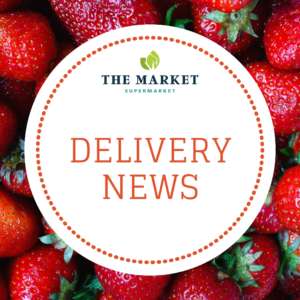 We anticipate having this product on display by 2:00 PM.
This week's fresh fruits and vegetables will include Oranges, Grapefruits, Red and Idaho Potatoes, Sweet Potatoes, D'Anjou Pears, Mangoes, Carrots, Jumbo Onions, Green and Red Onions, Bananas, Broccoli, Cherry and Large Tomatoes, Kale, Avocado, Celery, Spinach, Green and Red Cabbages, Pineapples, Artisan Lettuce, Romaine and Cello Lettuces, Limes, Lemons, Cauliflower, Tofu, Red Seedless Grapes, Cantaloupe, Cucumbers, Blueberries, Asparagus, Haricot Beans, Honeydew Melons, Plantains, Baby Bella and Cello Mushrooms, Waxed Yucca and a variety of mouth-watering, delicious apples.
This week's Bahamian Grown Produce at The Market Supermarket: Green, Yellow, Red and Orange Peppers – Grown and Packaged by Lucayan Tropical Produce Ltd., Nassau, New Providence.
JOB VACANCIES
For over the past 40 years our goal has been to operate a grocery store that focuses on providing quality food items while also offering a shopping experience that exceeds our customers' expectations.
We are looking for hardworking, talented individuals to join our team. Ideally, persons must must reside or have the personal means to relocate to the island of Eleuthera (housing and/or relocation allowance is not provided).
Current vacancies include:
Tour Guide (with water experience)
If you are interested in applying for one of these positions, please forward your resume to hr@rsp1976.com.