STORE UPDATES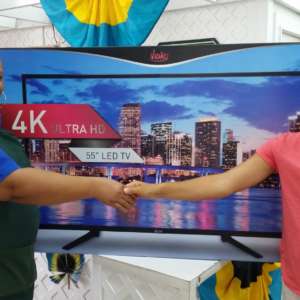 Congratulations Mr. and Mrs. Edward Brooks!
Pictured is Mrs. Annabelle Brooks accepting her new 55′ LED TV from our Store Floor Supervisor, Alice Johnson.
If you would like to become a part of of our Loyalty Card program, sign up now using our new express form; it takes just 2 minutes to complete. In addition to being entered into our drawings, you can also enjoy a free cup of tea or coffee while you shop and special discounts on various items.
JOB VACANCIES
For over the past 40 years our goal has been to operate a grocery store that focuses on providing quality food items while also offering a shopping experience that exceeds our customers' expectations.
We are looking for hardworking, talented individuals to join our team. Ideally, persons must must reside or have the personal means to relocate to the island of Eleuthera (housing and/or relocation allowance is not provided).
Current vacancies include:
If you are interested in applying for one of these positions, please forward your resume to hr@rsp1976.com.